Become a Member and Receive the Bonus Chapters Free!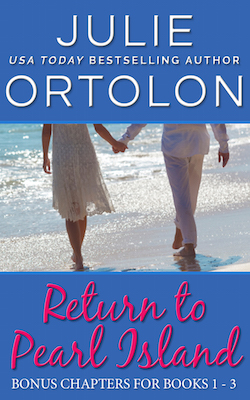 The Bonus Chapters are my thank you gift to all of you who have taken the time to email me privately and leave reviews about how much you enjoy the world of Pearl Island and all its characters. The first three books in the series, Falling for You, Lead Me On, and Don't Tempt Me were originally published in print by St. Martin's Press. When I re-released them as ebooks, your affection for the world of Pearl Island inspired me to add a fourth book, Lie to Me, to the series. Before I dove into that, however, I decided to revisit all the characters by adding an extra "epilogue" to the end of Books 1 – 3. The bonus chapters let you catch up with life at the Pearl Island Inn a few years after the original stories end.
 When is the best time to read the Bonus Chapters? After you've finished Don't Tempt Me, Book 3 in the series, and before you read Lie to Me, Book 4, which is Chloe's story.
If you haven't read the series, this ebook can read as three short stories to introduce you to the enchanting world of Pearl Island and the St. Claire siblings who turned a dilapidated mansion into a thriving bed and breakfast haunted by their colorful ancestor and her pirate lover.
How to Join the Members Only Club
When you sign up below you will receive an email with the password to let you access the Members Only page. In addition to the free bonus chapters, members will also receive my newsletter, letting you know about new releases, specials, contests, and giveaways. Already a newsletter subscriber? No worries. Filling out the fields below won't double subscribe you. It will simply trigger an email with the password. The email will have a link, bringing you right back here so you can enter the password and access the Members Only area.
Sometimes it takes a few minutes for the email to show up. If it doesn't show up, check your spam folder. If it still doesn't show up, send me an email. It's very Important that you put the word Password in the subject line.
I look forward to having you join the club.
Julie Ortolon
---
Sign Up
If you've already signed up, skip down to sign in and enter the password.
---
Sign In
To enter the Members Only area, please enter the password below. (Forgot the password? Fill in the sign up fields again, and you'll get the email with the password. This will not double subscribe you. It just triggers the email.)