The Perfect Trilogy (Boxed Set)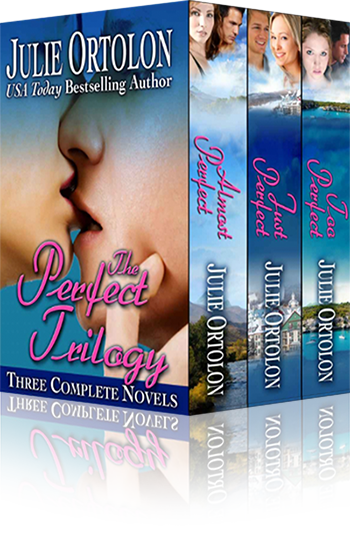 The Complete Trilogy
Three fun, sexy contemporary romance novels in a series about close friends, strong heroes, and the scariest adventure of all: falling in love.
Book One: Almost Perfect
A Free Spirit and a Reformed Bad Boy – a Perfect Match?
Maddy, the artistic one, collides with an old flame when she goes to Santa Fe to get her art into a gallery. Former Army Ranger, Joe, presents new challenges that heat up the sheets and threaten their hearts. Perfect for readers who love military heroes who have been wounded in more ways than one.
Book Two: Just Perfect
An Ice Princess and a Sexy Ski Bum – a Perfect Disaster?
To conquer her fear of heights, ER doc Christine takes a ski trip to Colorado and meets Alec, a fun-loving search and rescue expert. Will the absolute worst choice for a date turn into the best choice for a soul mate?
Book Three: Too Perfect
A Wandering Duckling and a Two-Faced Beast – a Perfect Fairy Tale?
When Amy faces her fear of traveling by taking a Caribbean Cruise her worst nightmare come true: She gets stranded on the island of St. Bart's. To fulfill her challenge she takes a job as housekeeper at a crumbling fort and falls for a mysterious billionaire hiding in the tower in this modern day spin on Beauty and the Beast.