Return to Pearl Island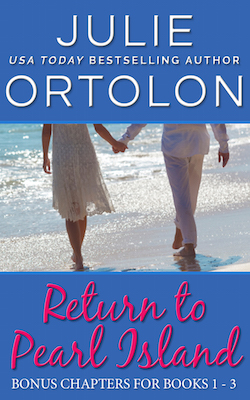 Book 3.5: The Pearl Island Series
I've always been touched by readers' affection for the stories set on Pearl Island. Since a little time passed between the print release of the first three books and when I re-released them as ebooks, I decided to have some fun and add an extra "epilogue" to the end of Books 1 – 3 so readers could see what's happening at the Pearl Island Inn today.
This ebook is my gift to you, the fans of the Pearl Island series. It was inspired by your emails and the reviews. So never under estimate how much authors value you and the reviews you leave.
To get the Bonus Chapter go to the Members Only page and join the Pearl Island fan club.
If you haven't read the series, this ebook can read as three short stories to introduce you to the enchanting world of Pearl Island and the St. Claire siblings who turned a dilapidated mansion into a thriving bed and breakfast haunted by their colorful ancestor and her pirate lover.
Welcome back to Pearl Island!